Limitless performance with Seamless Adaptability® in the Balandi Flex T-Shirt. Designed to excel and enhance your conditioning in training, a 4-WAY Stretch® + 3-FABRIC combination top. The fitness performance top combines ANTI-ODOR® and spandex Quick-DRY® named NITRON-BAMBOO®, our trademarked propriety fabric. Ready to take you to your next level in your next ambitious training session.
 LIMITLESS CONDITIONING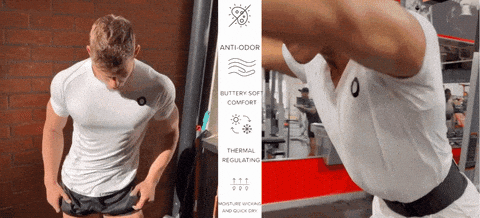 More & All Benefits

Seamless Balandi Adaptability®
Physique Balandi-ENHANCING®
Balandi Moisture-EVAP®
Balandi Perspiration-ABSORBING®
Balandi UV-GUARD®
Balandi Hybrid-SHOULDER® construction
Balandi Hybrid-BACK®
Balandi 3-FABRIC combination
Balandi ANTI-ODOR®
Balandi 4-WAY Stretch®
Spandex Balandi Quick-DRY®
Product Details
Regulates in warm and cold weather

Raised left chest rubber B logo

Rear Washing Instruction Rubber Logo

Balandi ACRONYM embroidered graphic

Model is 6'1" and wears size L

Logo color: Black

Fabric color: White

NITRON-BAMBOO®
Size & Fit
Model is wearing size L and is 6'1"




Bamboo buttery soft

Body Physique enhancing fit
Best Used In

Outdoor/indoor gym session

Intense sweaty workout

Lifting & squatting

Sprinting, running, jogging & walking

All day outdoors

Humid conditions

Summer/winter conditions
Sport & Activities
Athletic training

Gym

Running

Basketball
More Options

Best Paired With
Qualify for Cloud Points
Return Policy
Available for return once they are shipped
HOW OTHERS ARE WEARING BALANDI
SHOPPING VALUES
Balandi Innovation Lab
@balandisportswear
Your performance is at the core of achieving your vision - And so our greatest commitment is to the athlete's ambitions. Balandi gear to achieve your best results in mind.
Help Others Find Comfort By Sharing Your Balandi Gear Selfie!
Track Order Status
24/7 Live Tracking Updates
Free Returns
Get Approved for Free Return Within 24 Hours
Balandi Support
Get Help When You Need Within 24 Hours